I am the one and only Moni-merchandise!


I am a fan of Naruto, Sonic, Creepypasta, Teen Titans, Elfen Lied and Anime! I am also a head banging rocker that's in love with Dahvie Vanity!*shot hard*

I prefer my fan chara. to be in a relationship w/ Kakashi-sensei and another one to be with Naruto (Sasuke and Sakura are fine by me... -_-)

Also, I am Emo.
So yea, laugh make fun of me...I don't care anyway...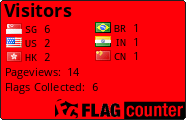 Why Are YOU Evil?
Hosted By theOtaku.com: Anime